When NuCara Pharmacy had the chance to get 1,227 doses of the Pfizer vaccine into arms, Story Medical Center jumped in to help make it happen.
In a very short time, Story Medical was able to commit both doctors and nursing staff to the mission, along with necessary medical supplies.
Today, at Gates Hall in Nevada, a mass clinic is happening, bringing in people from Nevada and the surrounding area.
Pharmacists from several NuCara locations in Iowa, doctors, nurses, and other medical staff from Story Medical Center, and members of the City's Public Safety Department, inc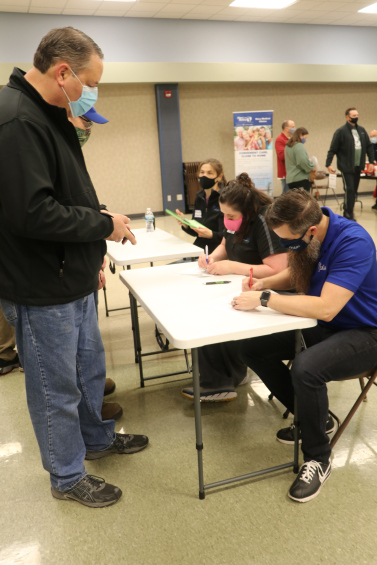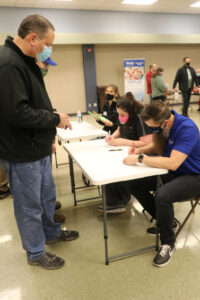 luding officers, and fire and EMS/paramedic personnel are working together to get shots in arms. Even Andrew Funk, Executive Director of the Iowa Board of Pharmacy is working at the clinic.
"NuCara got the doses in and needed physicians onsite," said Nate Thompson, Executive Director at Story Medical.
"This became a true partnership," said Loni Pringnitz, Vice President of Development at Story Medical. Volunteers from Main Street Nevada and Nevada Economic Development Council are also on hand to guide people through the process and answer questions.
Nicole Leusink of Ames said she was there to get a shot because "I just think it's the right thing to do… we were ready."
Robin Jones of Ogden said her boss, who was also in line, told her of the opportunity. "Once you get in the building (Gates Hall), it was pretty fast," she said of the process, which by the long line outside of Gates Hall has looked daunting at times.
Jones said she had COVID and feels very lucky that she didn't have major complications from it, but she was ready for the vaccine. "Just for safety reasons. We get a flu shot. Why is this any different?"
Nevada Mayor Brett Barker, Vice President of Operations at NuCara Pharmacy, has been helping sign people in at the door and said it was going well. Between 35 and 40 medical workers had shown up to bring it all together.
In three weeks, the volunteers and the shot seekers will be back for second doses.
Pringnitz said she could sense a feeling of gratitude from those who came into the clinic. "People thank you so much. They're just so grateful."
–Written by Marlys Barker, City of Nevada