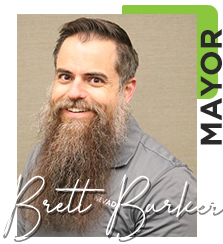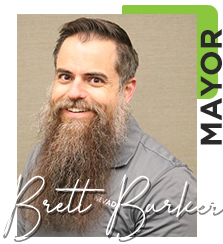 On behalf of the Nevada City Council, it is my pleasure to welcome you to the new website for the City of Nevada! We are excited to have information and resources readily available to our residents and our guests.
I have had the pleasure to call Nevada home since graduating from the University of Iowa College of Pharmacy in 2008. There is no other place that my wife, Tracy, and I would rather raise our four daughters. Nevada is an incredible community to raise a family, start or grow a business, find a meaningful career, and call home. It's truly a great place to live, work, and play!
I invite you to experience all the amenities Nevada offers. As a Main Street community, Nevada is home to a vibrant downtown business district with unique shops and restaurants. Our Downtown Historic District and Evergreen Lane are both listed on the National Register of Historic Places. The Nevada Community School District and Story County Medical Center are exceptional resources for our residents. Nevada's vibrant faith community, service clubs, and culture of volunteerism offer excellent opportunities to make a difference and enjoy good fellowship.
Nevada has a strong tradition of recreation and boasts one of the best park systems in central Iowa. With beautiful connected trails along the Indian Creek, all ages can enjoy walking, running, and biking year-round. Nevada's SCORE Park hosts local, regional, and even national events with amenities for soccer, softball, baseball, aquatics, tennis, fishing, and more!
The City of Nevada has enjoyed tremendous growth in recent years, thanks in no small part to the hard work and dedication of our city council, our community partners, and one of the best city government staffs you'll find. Our progressive economic development focus promotes citizen involvement in developing City priorities through our Nevada 2040 Plan. Entrepreneurship is welcome and supported. The Nevada Economic Development Council and Main Street Nevada have a strong track record of helping entrepreneurs realize their dreams in Nevada!
Nevada is blessed with a hardworking, skilled, and educated workforce. Our proximity to Ames and Des Moines provides several quality private and public higher learning institutions, which enhance our workforce. Being so close to metropolitan areas also allows access to additional cultural events and attractions.
No community can thrive without being safe. Nevada's Public Safety Department does a remarkable job ensuring that Nevada's police, fire, and emergency medical response services remain top-notch. Our public safety model provides our police officers with advanced cross-training to support our fire and EMS response. Our Volunteer Fire Department provides a response time as good or better than many full-time departments in our state. All of our public safety professionals deserve our highest appreciation for all they do to keep our community vibrant and safe.
At the end of the day, we are a community that works together to accomplish big goals. Thank you for taking the time to learn more about our great city!
Brett Barker, Mayor

Find local businesses and organizations.
View answers frequently asked questions.
Get involved in the community.