Pictured is Nevada resident Jerry Gibson and family (center) surrounded by the first-responders from several local agencies who helped bring him back to life on Feb. 22. Jerry is holding a special gift from the Iowa State Athletic Department. Read the story to learn more!
A very special presentation happened at the March 27 Nevada City Council meeting.
Jerry Gibson of Nevada, who went into cardiac arrest earlier this year during the Feb. 22 ice storm, was joined by the incredible team of first responders who made it to his residence and were able to revive him and get him to a hospital alive on that day.
Nevada Fire Chief Ray Reynolds pointed out that those gathered (at the meeting) included representatives of the Nevada Fire Department and EMS crew, Nevada Police Department, Story County Sheriff's Office 911 center, and Mary Greeley's Ambulance crew, who were responding because the local Story Medical ambulance was busy on another call.
"We had about 10 folks involved," Reynolds reported, and those 10 included four paramedic level responders, something the Nevada Fire Department takes great pride in providing to the community. The response time was 4 minutes for the first responders to arrive, due in part to the fact they were already at the fire station due to the storm.
"I don't remember too much," said Jerry Gibson, who was joined by his wife, daughter and two grandsons as he spoke before the council and those in the city hall chambers. Gibson said he knows what happened by what he has heard from others.
"What I've been told is that … all these wonderful individuals kept me alive," Jerry said.
Jerry noted that his father was a cop, so he was used to the way people respond to calls in a small town. "But this (situation) was very intense. These people have to have a lot of training and experience in order to keep me alive with what was going on," he said.
Jerry had two blocked coronary arteries, and he had known of issues with his heart. But, he said, he didn't think he would go into cardiac arrest or that what happened would happen that day.
His daughter, who works in child protective services and has been in the midst of family situations, became emotional when she talked about what it was like to be on the other side of a situation. "I noticed that people came in as a cohesive group, and," she continued, looking at all the responders in the room, "you were all pulling for him. It was just awesome. Thank you."
From Mary Greeley, Jerry was transported to Des Moines and then to Mayo Clinic in Minnesota, and Reynolds said when he saw Jerry drive by him a few days ago here in Nevada, it was like seeing a ghost. "By all means, he was dead," Reynolds said of remembering Feb. 22.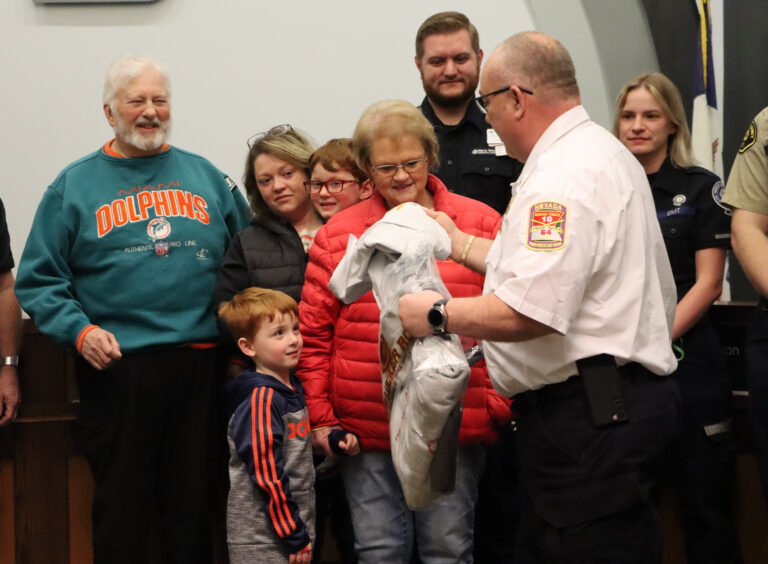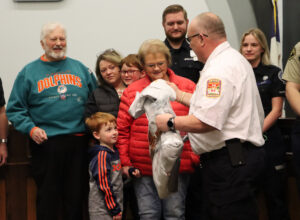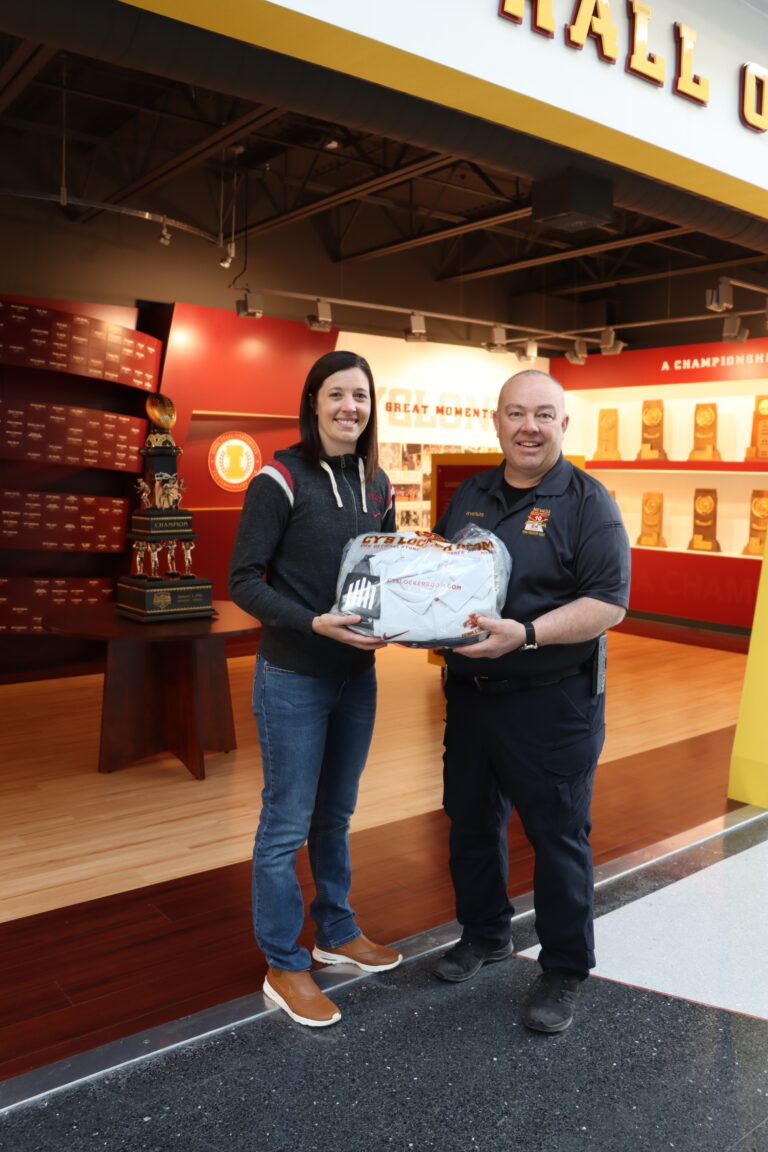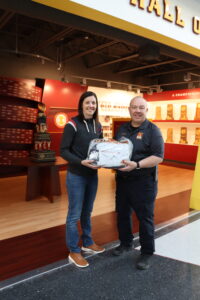 Reynolds also had another surprise for Jerry at the meeting. Being a huge Iowa Hawkeye fan, Reynolds felt bad that he was the one who had to cut off Jerry Gibson's very nice Brock Purdy Iowa State University shirt as they were saving his life. Knowing what it is to be a true Cyclone or Hawkeye fan, once Reynolds knew that Jerry was going to make a full recovery, he reached out to the ISU Athletic Department to see if they'd have a nice ISU shirt to replace the one that was ruined in the emergency.
Not only did the ISU Athletic Department provide one shirt replacement, they gave the huge Cyclone fan two new shirts and an ISU sweatshirt. As Reynolds made the presentation, Jerry Gibson was all smiles.
"I'm so grateful and impressed that right here in the community we have people who are dedicated and right there when you need them. We can't have enough of these people," he said.
–Written by Marys Barker, City of Nevada