Alissa Doobay is shown in her work at Belin-Blank Center Assessment and Counseling Clinic at the University of Iowa. Photo Courtesy of Kristin Flanery
A 2001 graduate of Nevada High School has recently been looked to for guidance by media sources reporting on the new school year in these very stressful times.
Alissa (Chisholm) Doobay, 38, was contacted by the Cedar Rapids Gazette to discuss returning to school, which resulted in a second interview on the subject with US News and World Report.
"I mostly just shared about how this year is different for families," said Alissa, a licensed child and adolescent psychologist. "There is a lot more emotion this year for many people. Many students have not been in the classroom in a year, or if they were, they may have only seen a minority of their classmates due to other students being online or on a hybrid schedule."
After graduating from Nevada High School, where she was involved in many performing arts — choir, show choir, band, jazz band, speech contests, plays and musicals – Alissa began classes at the University of Iowa.
"I wasn't exactly sure what I wanted to do, but I knew I wanted to work with children in some capacity, and I absolutely loved my high school psychology class, taught by Ms. Erica Woods-Schmitz. So, I decided to declare a psychology major."
She got involved in an undergraduate psychology research lab studying the development of self-regulation in young children, so when she aggressively completed her undergraduate training in just three years, Alissa applied to the U of I's doctoral program in Counseling Psychology.
She completed her predoctoral internship at Oregon Health and Science University in Portland, and then returned to Iowa City to complete her postdoctoral training at the Belin-Blank Center. She's remained at Belin-Blank since 2010.
When asked what she loves most about her work, Alissa said, "first and foremost, my clients. I truly feel honored that people trust me enough to share their life stories and struggles with me, and then are willing to work with me to find a path toward a better life."
The need for psychology is professional, as well as personal, for Alissa. "I will acknowledge that I experienced episodes of depression and anxiety earlier in my life that nearly threw me off course. I was resistant to seeking help at the time, thinking I needed to be 'strong enough' to 'fix it' on my own."
It was when she started to share her struggles with others, including a counselor, that things got better for her.
"During graduate school, I had to face my 'imposter syndrome' and questioning whether I was really 'good enough' or 'smart enough' to continue on this path," she admitted. Luckily for many others, she did continue.
"I work with so many incredibly courageous, kind, adaptive, brilliant, talented, persistent, and strong families who inspire me daily. I love the intellectual challenge of my work. Though I often complain about my writing load, there is something exceptionally satisfying (and nerdy, I know) about sorting through page upon page of data, finding meaningful patterns, and then using that information to help students, their families, and their schools gain a better understanding of the student's strengths and needs."
In her position at Belin-Blank, Alissa runs a clinic of three psychologists and a constant rotation of post doc and doctoral students in the U of I College of Education, specializing in supporting the needs of high ability and twice exceptional students. "Twice-exceptionality refers to individuals who have high ability (they are intellectually and/or academically gifted) and have a disability, such as ADHD, autism, learning disorders, anxiety, depression, etc.," she explained.
"Autism spectrum has become my primary area of expertise," she continued. "I provide diagnostic evaluations to assist with educational and treatment planning, as well as individual therapy and consultations."
Due to this being a highly specialized area of expertise, Alissa and her team serve students from across the nation and occasionally from outside of the United States.
Remembering her own youth
Alissa remembers moving to Nevada during the summer between her first- and second-grade years of school. "Prior to that, I lived in the tiny town of Rudd in north-central Iowa," she said.
Her dad, Jeff, taught at Nevada High School until his retirement a couple years ago. "He continues to substitute teach," Alissa said. Her mother, Lorrie, is a nurse at McFarland Clinic.
Alissa took part in a variety of youth activities with her church – First United Methodist. She took private voice and piano lessons, as well. As she got older, participating in performing arts took up most of her time, but she also participated in leadership opportunities, was manager of the high school volleyball team, was junior class president and also had a job at Fareway.
"I absolutely loved being involved in the performing arts. I have many fond memories of play practice and cast parties," she said. "I loved singing and preparing for All State Choir."
When she reminisces about her youth, "scooping the loop" with friends while in high school, along with listening to music, talking about life and "enjoying the moment" are all a part of her memories.
As for influences in her life, she said her parents were by far the greatest influence. "They have always been unwaveringly supportive and my biggest cheerleaders, while also holding me to high standards and instilling in me the values that make up my current character."
Others who influenced her positively include "Mrs. Doxie Weber, who was my teacher the first year I moved to Nevada," she said. "My sixth-grade teacher, Mrs. Diana Elliott, who allowed me to really delve into my interests and enjoy learning for the sake of learning. When I was younger, I would often hang out with Pam (Uhlenhopp) Karkosh in her mother's classroom before we took the bus to the elementary school. I have very fond memories of playing games and talking with Pam and Mrs. Mary Uhlenhopp during those years." She also mentions several music mentors, Barb Mittman who accompanied her when she sang, and Barb Toot, who was her ever-patient piano teacher.
And of course, as previously mentioned, she was influenced by Erica Woods-Schmitz, her high school psychology and sociology instructor.
Nevada was also the place where she met the young man she'd eventually marry. Her husband, Marc Doobay is a 2000 graduate of Nevada High School and works as a physician assistant in Iowa City. He recently transitioned from a primarily clinical appointment in family medicine to a full-time faculty position in the University of Iowa Physician Assistant Master's program.
Alissa and Marc have been married 16 years and are parents of three children: Lily, 10; Frankie, 8; and Violet, 5. "We enjoy watching our kids grow and develop confidence in their own abilities," Alissa said, also noting that despite her professional achievements, her children are her greatest accomplishments and her pride and joy.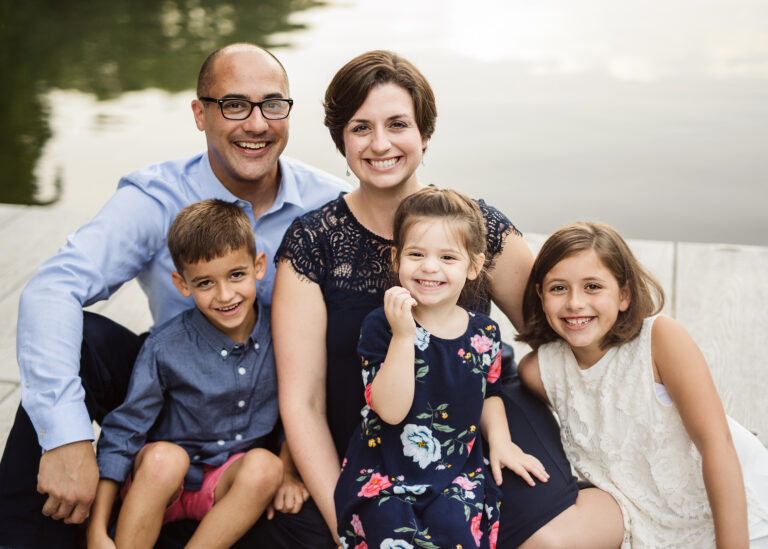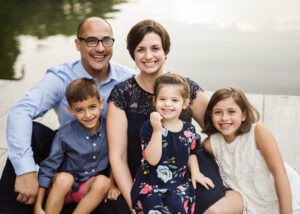 When she has a moment of free time, Alissa said she enjoys gardening, cooking, baking and eating delicious foods. "If I wasn't a psychologist, I'd probably work in the field of culinary arts in some capacity. I also love reading and watching musicals, and going on bike rides with my kids and watching them explore new places."
As for coming back to Nevada, Alissa said she comes back usually a few times a year to see her parents, and her younger brother, Brad, who still lives in Nevada. Her youngest brother Michael now lives in the Minneapolis area and is engaged to be married in October.
When she's back in Nevada, she loves getting ice cream, and sometimes cheese balls, at Starbuck's. "I also really enjoy the new bakery," she said. "My parents often spoil us by bringing a box of donuts and pastries from Bricktown Bakery when they visit." If given the chance, she also loves to get to Ames for pizza from Great Plains.
In her career, she feels proud that she can impact others through supervision and training. "I can only work with so many families on my own, but as I train more individuals, that allows for an exponential increase in clients being served," she noted.
In the past year or two, Alissa has been nominated by a former postdoc for the University of Iowa Outstanding Staff Award, which she received. She has also recently been featured in a twice-exceptional journal as one of 20 "People to Watch in Twice-Exceptionality," and she was invited to present a Neurodiversity Podcast on her work with high ability students with autism.
See for yourself the depth of Alissa's knowledge by reading what she had to say in the piece that ran recently in the Cedar Rapids Gazette. Here is the link: As school restarts, University of Iowa psychologist predicts range of academic, emotional needs amon | The Gazette
–Written by Marlys Barker, City of Nevada
Family Photo: The Marc and Alissa Doobay family includes three children: Lily, 10; Frankie, 8; and Violet, 5. The Doobays live in Coralville./Photo courtesy of Lindsay McGowan Photography