On the face of it, asking people for money doesn't sound like the best career choice. But a 1995 Nevada High School graduate wouldn't want to do anything else.
Colleen Rogers Messenger, 43, is a front-line fundraiser for a nonprofit and said she couldn't imagine anything else she'd rather do.
"I have people tell me, 'I could never do what you do and ask for money,'" Colleen said. But, she adds, "I have experienced so much gratitude working in fundraising – from donors and from those who benefit. I didn't imagine this would be my life's work, and now I can't think of anything I would rather do. I get to know people on a deeper level as they discover how giving back can be the most fulfilling life experience."
Colleen is presently the Director of Gift Planning on the Foundation team at ChildServe, a pediatric healthcare and rehabilitation facility. "I partner with donors on their estate gift planning and how they wish to fulfill their legacy through personal philanthropy."
She didn't see this line of work in her future when she graduated from Nevada High School and headed to Central College in Pella. "I was unsure of what to major in, but had always loved reading and writing, so I majored in English," she said.
During those college years, she also became interested in environmental issues, so she pursued graduate school overseas, in Carmarthen, Wales. "I earned a master's degree in Environmental Education," she said, and she also identified that nonprofit work was in her future.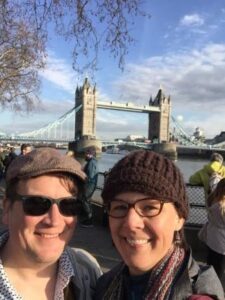 "I ended up getting my start at Iowa State University with a program focused on sustainable livelihoods in Uganda," she said. Over the years, she worked her way into fundraising. "I've worked for a few different nonprofits and really enjoy healthcare fundraising."
She enjoys it so much, she noted, that she plans to do it for the rest of her career, and even into retirement. "When I retire, I would like to volunteer for a nonprofit and stay connected to this work from a different seat."
Looking back
Colleen's family moved to Nevada, Iowa, in 1979 when she was 2 years old.
Her dad, Dean Rogers, had a career in petroleum sales. "He still isn't fully retired from the Heart of Iowa Co-op," Colleen said. Her mom, Charlene, was a childcare provider, and Colleen also has two older sisters, Christine Healy, of Malverne, N.Y., and Kaylene Rogers-Harkins, of Waukee. While Colleen has no children of her own, her sisters have provided her with eight nieces and nephews, who she much enjoys.
"I have such fantastic memories of playing sports through Nevada Parks & Recreation. Softball, basketball, volleyball and track were such a huge part of my life growing up. The lessons of teamwork, accountability, and collaboration have stayed with me," Colleen said.
Several Nevada teachers and coaches made a lasting impact on her.
"Madame Chris Lloyd was a great inspiration to me to learn another culture and language. I took a year of French in college and was conversational with language assistants from French-speaking countries. Coach Schneider was a wonderful coach and mentor to me on the volleyball court and in the classroom. Mrs. Joni Madsen was also a mentor. I remember writing a research paper during her class and that was so helpful in college. She was also an amazing speech and drama coach."
Positive lessons also came from her home, Colleen said. "My parents and older sisters were a huge influence on my life. I don't know anyone who works harder than my dad. I can't believe how many hours my parents spent driving and sitting in gyms or outside at softball fields while my sisters and I grew up. My sisters were my heroes as star athletes and star students and tough acts to follow as the youngest child."
The town of Nevada itself also made a huge impact on her life. "I am proud to have grown up in a small town and to have my roots here in Nevada. It doesn't have to hold you back from experiencing other ways of life and seeing the world."
Colleen met her husband, Brian Messenger, an Ames native and ISU graduate, in 2012 through mutual friends while attending a live music event. They married in 2016 and currently live in the Union Park neighborhood of Des Moines. Brian works as a software manufacturing engineer at Ag Leader in Ames.
"We love to travel, ride our bikes, cook, try new restaurants, watch movies and work on projects in our 100-plus-year-old home," she said.
A few times a year, Colleen gets back to Nevada, where her parents still reside. She said she always likes to return home when her sister, Chris, and her family are back in town visiting from New York. "Brian and I also come (to Nevada) for the Fourth of July parade."
When coming back to Nevada in the summertime, no trip home would be complete without a stop at the original Starbuck's for ice cream, she noted.
Each decade of Colleen's adult life — 20s, 30s, and 40s — has had challenges, she noted. "After college I wasn't entirely sure where my career path would take me. Once I found my place in development, I focused on finding mentors and supportive colleagues," she said.
"There have been times where I wasn't sure I was in the right seat, so having friends, mentors and colleagues to talk through 'what's next?' was very helpful. My 40s have been my favorite decade so far!"
Everything she's been able to enjoy and accomplish in life started with growing up Nevada, Iowa, and that makes Colleen proud.
"Growing up in Nevada," she said, "doesn't have to hold you back from experiencing other ways of life and seeing the world."
–Written by Marlys Barker, City of Nevada