Kim Hanna, a 2000 graduate of Nevada High School, treasures the life and people she grew up with in Nevada, Iowa.
Now living and working in Cedar Falls at the University of Northern Iowa – where she earned her undergraduate degree – the soon-to-be 40-year-old noted that no matter where she is in life, it seems "all roads lead back to Nevada or at least Story County."
Currently, Kim is the Director of Development for the College of Education with the UNI Foundation, "which means I meet with UNI alumni and friends who want to make an impact on student success through scholarship and program support," she said. It's a great way to "pay it forward… I went to UNI myself because of scholarship support." Now she loves working to help today's students be financially supported when they attend the university.
"So many random connections back to Nevada keep happening with the alumni I work with who are related to people in Nevada or lived [in Nevada] at some point in their own careers. I know they're legit connections, because they pronounce Nevada correctly when we talk about it!"
Visiting with Kim about her life is a joyous experience. Not only does she have a genuine appreciation for her years in Nevada, but she can joke about life in a fun-loving way as well.
How about accomplishments?
Take for instance a question about marriage. Kim is matter of fact about it. "I'm not married, and I don't have kids. I have successfully kept three plants alive for over two years. That actually might be my greatest accomplishment in my adult life!"
Actually, that's not her only accomplishment, because when asked specifically about her greatest accomplishment, she talked about baking. Kim eats gluten-, egg- and dairy-free, and says her greatest accomplishment is "that I found a really delicious gluten-free chocolate chip cookie recipe! I was also told to say my vegan gluten-free pumpkin oatmeal crème pies are my greatest accomplishment, and my sister said I should also add my coffee cake and Yule log cake that I make every year for family Christmas."
It's clear Kim has friends and family to help her with answers. Her older sister, Melissa Hanna Rowan, is a 1994 graduate of Nevada High School. And then there's her group of friends in Cedar Falls who tried all kinds of Kim's baked goods when they formed a "Covid Pod" in 2020.
"We got together every week to watch the Bachelor/Bachelorette franchise. I was always in charge of desserts, so I have been able to build up my vegan and gluten-free baking skills to include cheesecakes, bars and cookies…" And the Bachelor/Bachelorette shows? "I'd never watched the show before fall 2020, so congratulations global pandemic, you made me a fan of this wild ride of a show!"
Looking back
The Hanna family moved to Nevada in 1989 when Kim was starting second grade and her sister was starting 8th grade. Her father, John was transferred to the area for his job managing Quik Trip stores in Des Moines. Her mother worked at Page's in downtown Nevada as an interior decorator.
As Kim became old enough, she got involved in the Central Presbyterian Church youth group, 4-H and the county fair, the school's Key Club and was a volunteer for Special Olympics. After the 8th-grade classes volunteered, as a class, for Special Olympics, Kim said she has tried to continue this by volunteering every year after college. She's been a Special Olympics volunteer in Iowa, Massachusetts, and Minnesota, the states she's lived and worked in as an adult.
Her main high school involvements were in performing arts. Kim was involved in speech and theater, both in the school and community theater groups. "I participated in band and chorus and everything those included, like jazz band, chamber choir, and contests." She also enjoyed being involved in her church choir. "The choir always celebrated Christmas Eve together between services. It was always a lot of people and a lot of fun. I really enjoyed that tradition."
Looking for one more thing to add to her college applications, Kim joined the Nevada High school cheer squad during her senior year. "It wasn't too hard of a stretch to just cheer slightly louder than I already did, but in a skirt! My jumps weren't great," she said.
When it comes to how some may remember Kim as a high schooler, Kim's sister wonders if the picture that stuck in their minds of Kim is in her cheerleading uniform on the football field playing the base drum with the marching band. "All you could see of me was arms and legs! I'm pretty short," Kim said.
Kim also believes she would be remembered by high school friends as one who loved plays and musicals. "My favorite was 'Nunsense' my freshman year," she said.
Having jobs during high school was also an important part of Kim's life. Her dad worked for Crow's Hybrid when Kim was in high school. "He hired me and several of my friends to work in the fields every summer at his nursery plots. Not everyone can say they pollinated corn for a job. We had a lot of fun together!"
Kim also worked at Nevada's Fareway when she was in high school, and she thinks working in customer service/retail as a youth should be mandatory as you make your way to adulthood. "That job taught me a lot about human interaction and decency, how to handle rough situations and that the customer isn't actually always right," she joked. "It also taught me that work can be really fun when you're working with friends!"
The people part of growing up
 Life in Nevada wouldn't have been complete without great people who had positive impacts on Kim's life.
"The Braleys and Uhlenhopps were my 'extra parents,' and I think I spent as much time at their houses as my own," she said.
She also had surrogate grandparents, like Shirley and Dick Pilgrim. "They have a very special place in my heart. I spent a lot of time at their house too. Shirley taught me how to bake peach pie, play the piano, and always checked my 4-H record book to make sure it was ready before county fair time."
She has a list when it comes to teachers she wanted to mention.
Mr. Mittman: "He is an example of a teacher who loved teaching and it showed. While math wasn't my strongest subject, I enjoyed his class. He also let us watch 'A Muppet Christmas Carol' (the greatest of all Christmas movies) the day before winter break senior year, and I feel it's safe to share that fact now that he's retired."
Mr. Schneider: "Also math and also hard. He got a lot of out me in that class."
Mrs. Davis: "She encouraged my love of speaking in public (and found appropriate venues for it), and I really enjoyed her as a director and a teacher."
Mrs. Ross: "Eighth grade English was one of my favorite classes. I ran into Mrs. Ross when I was back living in Ames for a few years. I ended up volunteering as a judge for History Day at NMS for several years, and she was wonderful to work with outside of the classroom too."
Mr. Fauquet: "We actually lived in Ames when I was in 7th and 8th grade, and I don't think we could have made it work if he hadn't volunteered to drive me to school every morning. He and his family were and are close family friends. I was open enrolled back to Nevada and he drove me every day (and I had to be at school early every day for different practices and rehearsals). We listened to NPR every morning, and I read the paper while he drove. When we did current events quizzes in Mr. Vasey's class, I always did well because of those drives."
Enjoying life each day
When it comes to her present life, Kim tackles it with the same enthusiasm she had as a youth.
"I love traveling. I am slowly working my way to all of the national parks and have visited all five Utah parks this summer. I had the opportunity to go to Europe in high school through an all-Iowa choir and after that, I have tried to take advantage of every travel opportunity I could. I've been to 40 states and three continents so far. A planned trip to Tanzania got postponed due to Covid-19, but I hope to be able to go in 2022," she said.
She loves doing anything in the outdoors – hiking, running, swimming, sitting with a cold beverage and a plate of "grilled anything," drive-in movies, and biking. In addition to baking, she loves yoga and Sunday morning movies at the theater.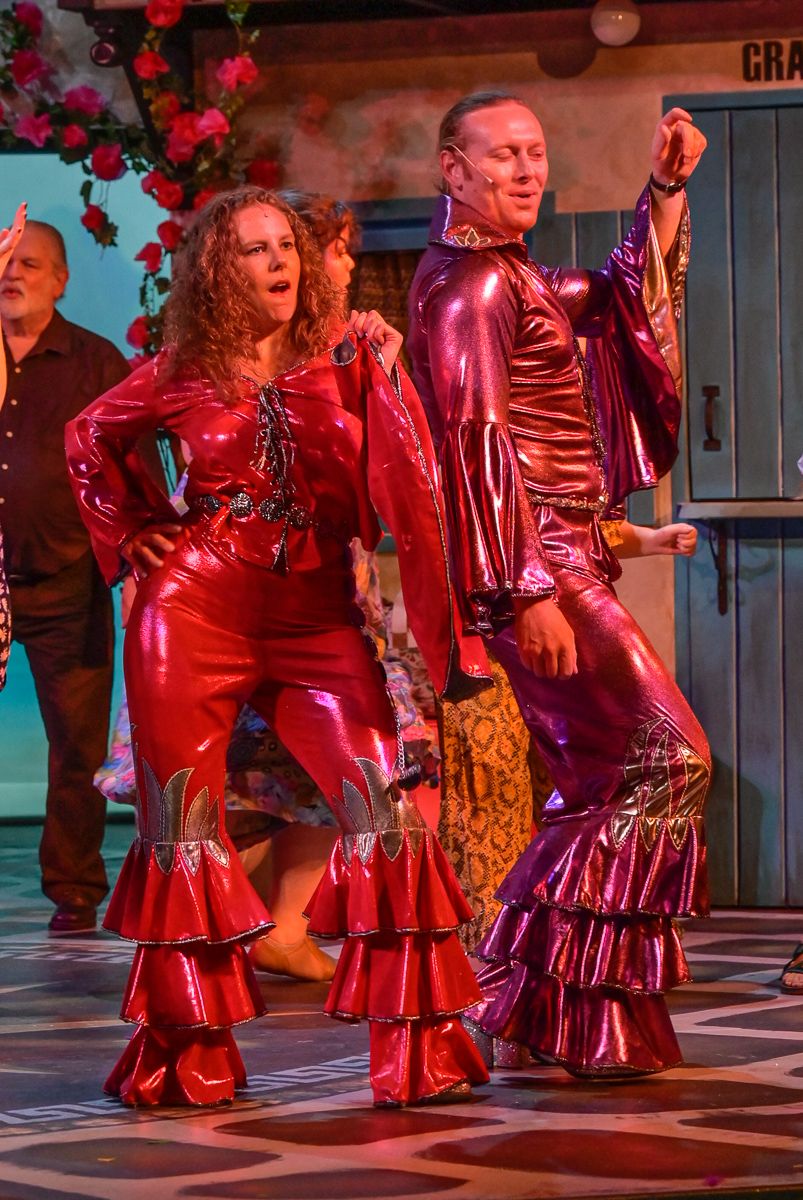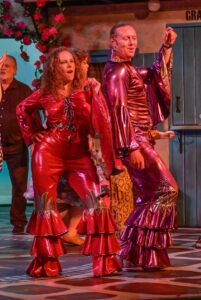 She also has kept up her acting skills. "I got back into community theater here in Cedar Falls and have done a couple of shows now. This summer I was in the Cedar Falls Community Theater production of 'Mamma Mia' as Tanya, everyone's favorite cougar. I had a blast and the costumes were so much fun!"
After earning her undergrad degree from UNI, Kim went to grad school at Boston University. She worked in Boston, moved to the Twin Cities to work with immigrant entrepreneurs and small business owners. Moved back to Story County for a while, working in Ames as the director of Campustown Action Association and then as executive director for Raising Readers in Story County. Fundraising has been part of every job she's had, so it was easy for her to transition to her current role at UNI.
While she was living in Ames a few years back, she had the opportunity to reconnect at Nevada High School, co-coaching large group speech students with fellow Nevada alum Libby Ehrig Roberts.
"I've had a pretty chill life honestly," she said when asked if she's had major challenges. "My challenges are probably the goals and expectations I set for myself to accomplish. I think I hold myself up to much higher standards than anyone else does."
—Written by Marlys Barker, City of Nevada