For as long as he can remember, 1996 Nevada High School graduate Matt Johnson wanted to become a teacher and coach, and for the past 20 years, he's been fulfilling that career goal.
Matt, 42, currently teaches AP (Advanced Placement) and Pre-AP Chemistry at Blue Springs High School in Blue Springs, Mo. He's spent many years coaching cross country and track, as well.
"The teachers and coaches I had in Nevada are the reason for [wanting to become a teacher and coach]," he said. "I had such positive experiences in school and sports growing up… My teachers and coaches in Nevada cared so much about us kids and were always pushing us to be better versions of ourselves. I am grateful for the education the Nevada School District provided."
After high school, Matt attended Northwest Missouri State University in Maryville, Mo., where he earned a degree in chemistry education. He was also a member of the University's cross country and track and field teams.
"My degree earned me a Missouri Teaching Certificate," he said. He also attended his first Teacher Career Fair at the University. It featured schools from Northwest Missouri and the Kansas City area. "That's where I got an interview set up with Oak Grove High School in the Kansas City area."
Matt taught at Oak Grove High School for six years prior to his Blue Springs High School position.
After 20 years in the profession, Matt is at home in the career he always wanted.
"I enjoy sharing the passion I have for the subject I teach, chemistry and the sports I coach with my students and athletes," he said. "Chemistry and running are both very difficult to master, so it is very rewarding to help kids as they overcome the many struggles they must endure to achieve their goals."
Setting high expectations and challenging kids, Johnson believes, is impactful on developing their character and equipping them for the difficult obstacles they will have to overcome in the future. "Building relationships within the school community and watching these kids grow as learners, athletes and human beings is truly a joy. I can't imagine doing anything else as a profession."
Looking back and family
Matt said he took for granted the opportunity he had by growing up in Nevada with its "small-town" atmosphere.
"All the activities I was able to be involved in growing up in Nevada, the education I received, and the values that were instilled in me made me who I am today. What Nevada has to offer isn't found everywhere," he said. "I consider myself very lucky to have grown up there."
He is thankful to his parents (Bob and Mary Johnson, who both worked in sales) and Nevada's community. "My upbringing taught me the value of a good education, a strong work ethic, being kind to others, and the importance of working together."
Living a faster-paced life in a large community (Blue Springs' population is more than 54,000) and huge school district now, Matt said the bigger setting can have challenges. "I like to think that the values I was raised with in Nevada, help me to have a positive impact in the community I live in now," he said.
Matt's wife Amy is a registered nurse and professor at the University of Central Missouri's School of Nursing. They will celebrate five years of marriage this June. "We enjoy summers and holidays together, since we are both in education."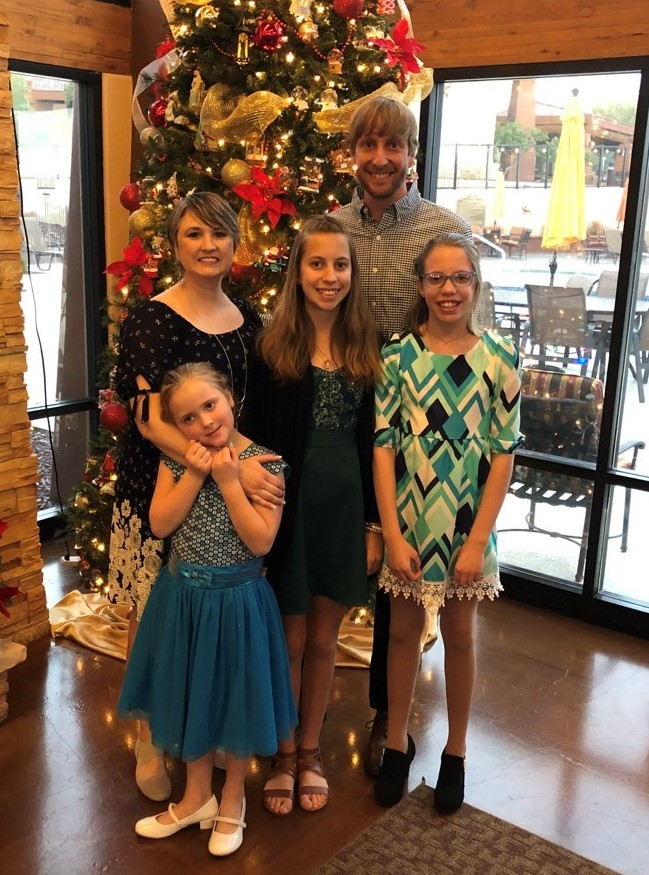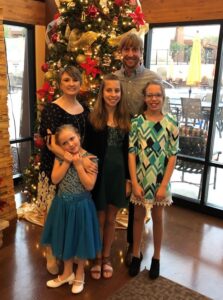 During the busy school year, he said, he and Amy enjoy hanging out at home with their daughters and watching the girls participate in their activities. Aubrey Johnson is a sophomore at Oak Grove High School and is active in cross country, theater, competitive drama, and choir. Hallie Johnson is a seventh-grader at Oak Grove Middle School and is active in cheerleading, cross country, and track. Grace Scofield is a second-grader at James Lewis Elementary School in Blue Springs and is active in horseback riding and karate.
Some might recall that Matt had two sisters. His older sister, Erin Rewerts, lives in Nevada. His younger sister, Libby Ladd, lives in Phoenix, Ariz. Matt and his sisters lost their mother to cancer in 2018. Their father remarried in 2020, and he and his wife, Marilyn, live in Arizona half of the year and Branson the other half.
When he has time, Matt enjoys reading a good book, playing board games, and running. He said he doesn't get back to Nevada enough.
"Since we don't come back much, most of our time (when they do visit Nevada) is spent hanging out with family and catching up with an old friend or two. My girls always make fun of me that I always have to drive by the house on 10th Street that I grew up in."
As for the future, Matt said he's definitely in education for the long haul. He's recently taken a break from coaching while his daughters are getting involved in activities. "I see myself getting back into that once my daughters are grown up."
–Written by Marlys Barker, City of Nevada