Nicholas Walleser was sworn in as a police officer during the Aug. 23 City Council meeting.
Below, Mayor Brett Barker congratulates him after the oath is completed.
A 2016 graduate of Nevada High School was sworn in as Nevada's newest police officer during tonight's City Council meeting.
Nicholas Walleser, 23, will head to the Law Enforcement Academy next Monday with Nevada's other new officer, Madison Dicks.
Walleser is a veteran, who was honorably discharged from his service with the U.S. Army in December of 2020. "I enlisted in the Army after high school, and was a member of the Airborne Infantry. I was stationed at Alaska for roughly three to four years and then was deployed to Afghanistan for about a year," he said. In Afghanistan, Walleser was assigned to a Special Operations team. He was later assigned as a team leader, supervising and overseeing training and practices for fellow soldiers.
Once back home, Walleser went to work for a Boone start-up business, AgCertain, as an equipment operator. "I was appreciative of the job, but it was a far throw from the military," he said.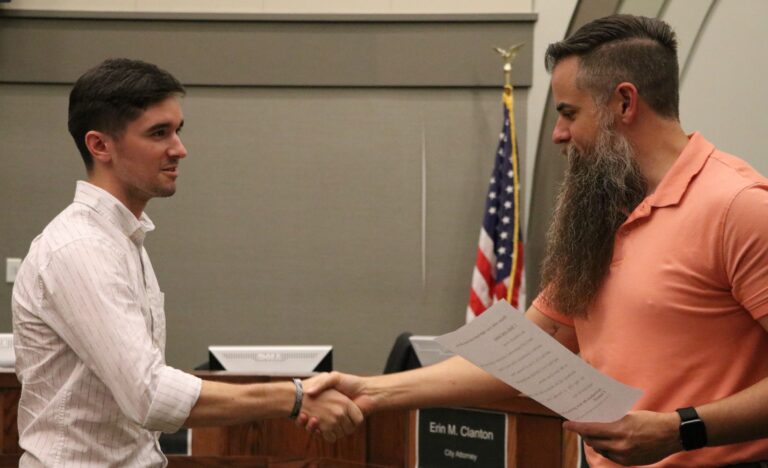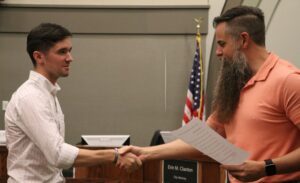 To get back into public service, Walleser joined the Nevada Fire Department a few months ago, and his interactions there led to someone suggesting the idea of him applying to the Nevada Police Department.
"There's not a whole lot of applicable jobs (outside the military) when you've served in infantry," Walleser said. He believes that law enforcement probably comes the closest, and he's grateful to have the opportunity to join the Nevada Police Department. One advantage will be his familiarity with Nevada. He ran these streets as a member of the high school cross country and track teams. He was also a member of the high school wrestling team.
Walleser wasn't raised fully in Nevada. He was born in Milford, Mass., and moved around a bit as a child, ending up in Iowa, where he also lived in Dubuque and Des Moines for a time. He does consider Nevada his hometown, having married his high school sweetheart, Kristina (Wendt).
When he's not busy with work, Walleser enjoys going to the shooting range and playing video games. He also enjoys time with his family. His wife, Kristina, works at the university branch of U.S. Bank in Ames. They have a son, Gabriel, who is 20 months old, and another child on the way in late November.
Walleser said the thing he's going to enjoy most about being a police officer in Nevada is "serving the community." He also believes Nevada is the "perfect-sized community" for being a police officer.
–Written by Marlys Barker, City of Nevada