The public is invited to a retirement reception for Linda Wright on Wednesday, Oct. 6, from 4-6 p.m. at the Nevada Public Libary meeting room. The wearing of masks would be greatly appreciated.
Since her second year out of college, Linda Wright has dedicated her professional career to library work. This fall, Oct. 7 to be exact, Wright will retire after spending her last 21 years as an employee of the Nevada Public Library.
"I have worked at Nevada since 2000. Beth Williams was the director who hired me," Wright said.
Wright has been a cataloguer since she started at the Nevada Public Library. In her position, she finds records to load into the catalogue. "If I can't find a record, I have to make a record," she said. Cataloguing involves everything the library checks out: Books, DVDs, CDs (audiobooks), magazines, adult, young adult, junior, picture books, fiction, and non-fiction. "In other words, all formats, all genres, all age-groups," she noted. "I have even catalogued a telescope, bike locks, and the hotspots."
Wright can usually be found at the circulation desk, where she also helps check books in and out and helps patrons find books and information.
She's worked with Interlibrary Loan requests, and she's selected and delivered books for patrons who are home-bound or in nursing homes.
A storybook childhood
Wright is a native Nevadan, having been born at the Story County Hospital.
Her parents bought an acreage in the early 1960s, "before anyone else was even thinking about living on acreages. Dad was asked what he was going to raise on eight acres. His response was, 'Kids!'"
The acreage was north of Hickory Grove Lake, and her parents, both having been raised on farms, wanted to raise their children in the country.
"We had sheep, chickens, a milk cow, and there was always a dog and lots of kitties," Wright recalls. "We had a large garden with potatoes, green beans, onions, sweet corn, tomatoes and many other vegetables. There was an orchard there, when we moved to the acreage, with several different kinds of apples and other fruit trees, including pear and mulberries. I had several different trees in the orchard that I liked to climb."
Wright was in 4-H for almost nine years, and she took part in high school plays (and would do the same later in college).
Reading books, as you can guess, was something she loved from a young age. "It was always, 'One more chapter Mom… I'll do the dishes when I finish this chapter!'," she said. But as a kid, she didn't really think about being a librarian. "Librarians in my youth were 'old maids.' I thought I would become a translator."
She graduated in 1975 from Nevada High School and then went to Central College in Pella, graduating in 1979 with a BA in linguistics. She'd also studied French, Hebrew, and Welsh, even spending her junior year studying at Trinity College in Carmarthen, Wales. She also worked at the college's Geisler Learning Resource Center (which was the library). "I helped input the collection into a database called OCLC, which allowed other college libraries to see what Central College owned, so they could borrow materials."
Her career
Following her college graduation, her first job was at Donnelley Marketing as a clerk. She'd worked a summer during college for Donnelley, putting either bottles of Dawn dishwashing liquid or bars of Irish Spring soap into boxes to be mailed out as free samples.
"After that, I worked in libraries," she said, and it's an impressive list. Wright worked at the old Parks Library at Iowa State University, the Main Library at the University of Iowa, the Rod Library at the University of Northern Iowa, the Musser Public Library at Muscatine, and the Roland Public Library. In her career she's been a children's librarian, a reference librarian, and a bibliographer. She's also worked with Special Collections.
In Nevada, Wright worked in the old Silliman Memorial Building, which housed the Nevada Library prior to the new library building. In fact, she said, the Silliman Memorial Building also housed City Hall at one point in time, and it had a museum in the upstairs with a stuffed moose.
"I worked (for the library) in the Silliman Memorial Building two different times. The first time, I worked with Eleanor Engel and did storytimes and generally helped patrons. The second time, I worked with Deb Amensen and was inputting the catalogue into the new database on the computer when I wasn't helping patrons."
Wright was working in the previous library building when they started talking about either adding on or replacing it.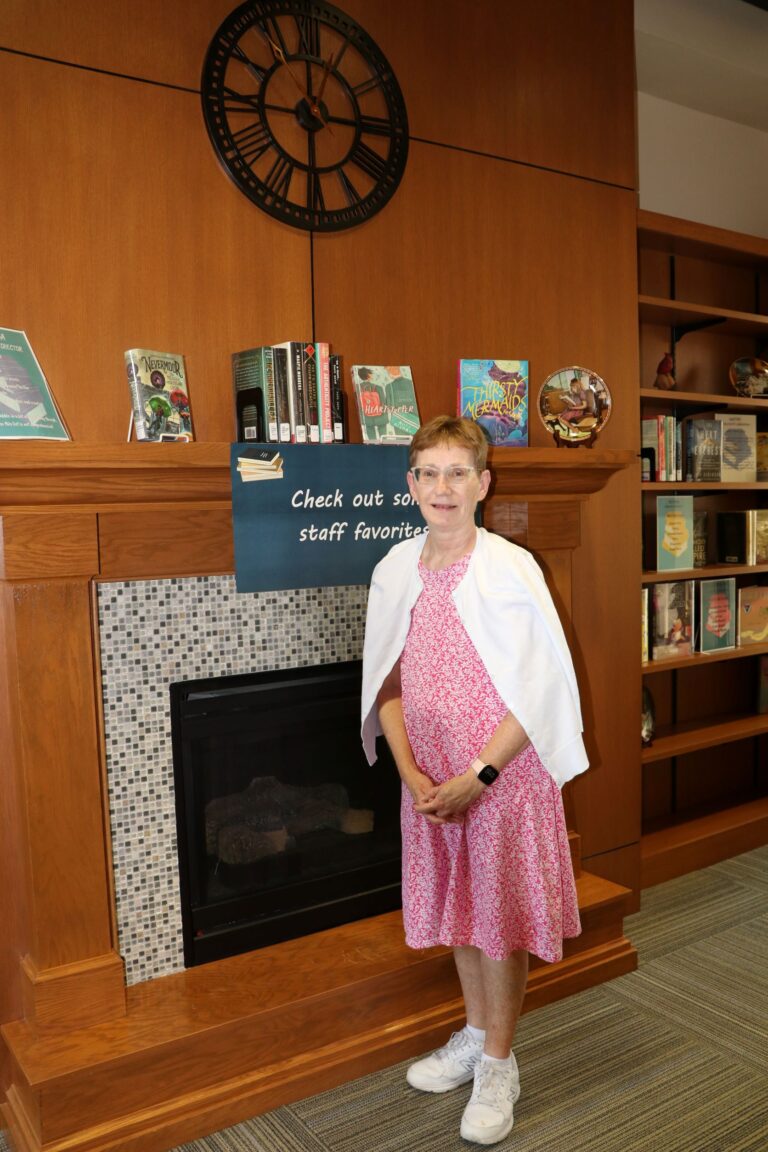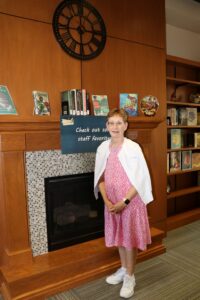 "The engineer was walking around the building one day. He had walked back and forth in front of the circulation desk a couple of times when he stopped and said to me, 'The floor dips here, doesn't it.' And I thought, 'I really didn't want to know that!'"
Putting history aside, Wright shared her take on the old Silliman building. "It had not been maintained well. The restroom was small and drafty and dirty. There was no air conditioning unless we opened the windows, which didn't have screens."
And as any true librarian might say, Wright emphasized, "The building is not the library… the library is the books, the staff and the patrons." And when the City and Library Board decided to give the Nevada Library a new home, they did the job right. She loves the "new" library building, now 30 years old.
"I love how warm and comfortable it is. The building still looks wonderful. We still get compliments. I have to say that the first maintenance team we had, Ken and Judy Johnson, did a fantastic job keeping the building looking clean and new… I like the openness of the building and the wonderful seating area in front of the working fireplace."
As she prepares for retirement, Wright said the thing she'll miss most about the Nevada Public Library is the people – the staff and patrons. And she's loved the job. "It has always been unpredictable because you never knew what the next person would ask about."
While she didn't have much interaction with the board, she said its members were always supportive of the staff and directors. She also thanks the library's wonderful volunteers and the Friends of the Library group. "And we have the best patrons! I am going to miss everyone a lot."
Her retirement plans, as you've probably guessed, will include a fair amount of reading and research. "I hope to do a lot of genealogy. I have been working on our family tree since my mom passed away in 1997. My sister, Evelyn, started it when she was in high school. After she passed in 1990, Mom and I took over."
Wright hopes to travel with her genealogy research and also looks forward to working in her gardens in the summer months. "I will be able to work any time the weather is good," she said.
"I wish the staff and our new director, Erin, well, and hope they continue to serve the community of Nevada and continue to be the best library ever!"
–Written by Marlys Barker, City of Nevada