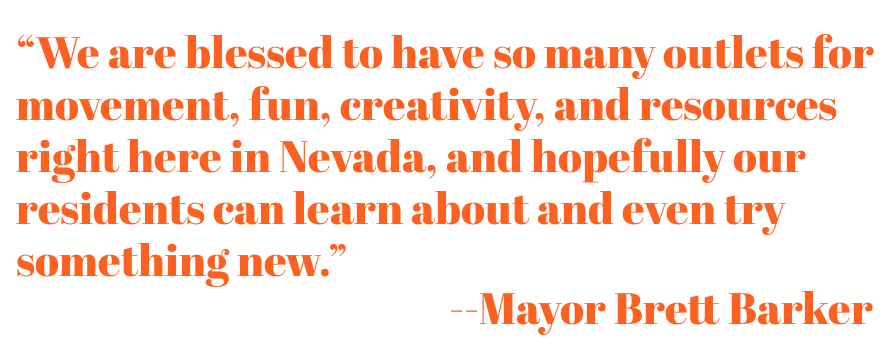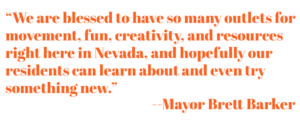 Life has been a little stressful in recent years, and often February, the month with the fewest days, can be the longest, coldest, most depressing period of the year.
In Nevada, community leaders are taking February and turning it on its head. Rather than focusing on the "drab," we urge residents to join us in making the month "FAB."
FABuary in Nevada will take each week of February 2022, from each Tuesday to the following Monday, and focus on weekly themes that offer ways to be "well!"
Week 1 (Feb. 1-7) is Make Your Move week, focused on things that get us moving.
Week 2 (Feb. 8-14) is Find Your Fun week, focused on activities that will help you and your family find fun with friends and neighbors.
Week 3 (Feb. 15-21) is Create Your Great week, focused on exploring artistic outlets and the healing power of creativity.
Week 4 (Feb. 22-28) is Fill Your Toolbox week, where residents can learn about resources available to help them navigate whatever life throws at them.
Tracie Engstrom, a Licensed Independent Social Worker practicing in Nevada, brought up the idea of a community-wide "February intervention" to City Councilwoman Barb Mittman this past December.
"February is always the toughest month of the year… We discussed having a forum where we could acknowledge and discuss the stress and possible trauma from the last couple of years," Engstrom said.
From COVID to supply issues, derechos to inflation, these past few years have been draining.
"As individuals, we can exercise, relax, be creative, spend time with friends, etc., but often we need the help and support of our community to truly heal and move forward," Engstrom said. During FABuary, she hopes residents will take advantage of the interventions, support and resources to help all of us connect and heal as a community.
Though the idea came together rather quickly, Engstrom — who practices school-based therapy in addition to counseling adults and families in her private practice – is uplifted by all the leaders who stepped forward to help with the FABuary effort. Mayor Brett Barker and City Administrator Jordan Cook were supportive of the effort, which involves leaders from many businesses, the schools, Main Street Nevada, Story County Medical Center, and the City of Nevada, including Nevada Parks and Recreation.
"I'm excited to highlight all of the great resources that exist in our community," said Mayor Barker. "We are blessed to have so many outlets for movement, fun, creativity, and resources right here in Nevada, and hopefully our residents can learn about and even try something new."
To learn more about what's in store during FABuary, residents are invited to attend a Tuesday, Feb. 1, kick-off event at Gates Hall, where everything about the FABuary initiative will be covered. The kick-off will begin at 5:30 p.m.
Another event happening in the first week – Make Your Move Week – is a vendor fair, where residents can learn more about what is available when it comes to wellbeing and fitness right here in Nevada. The vendor fair will happen Thursday, Feb. 3, from 5-7 p.m. at Gates Hall. Those attending will receive a "passport" to complete for fitness-related prizes!
In addition to special deals on fitness, FABuary will include an ice-skating night, family BINGO night, learning to dance night, a meditation event, a conversation/showing gratitude event, and more.
Residents can stay updated with weekly event announcements on the City of Nevada, IA Facebook page.
–Written by Marlys Barker, City of Nevada