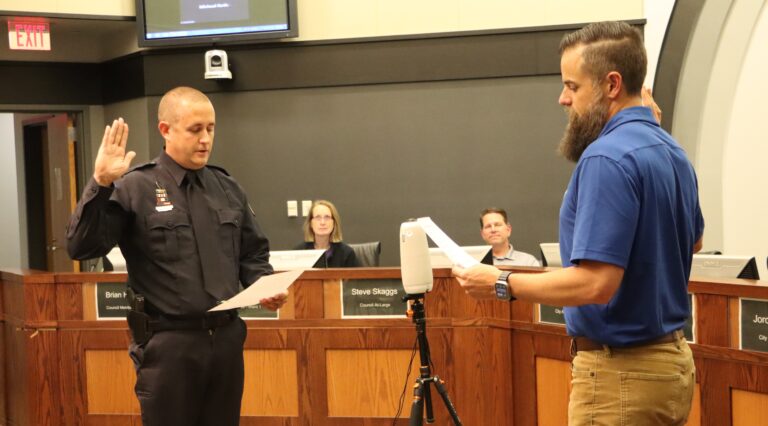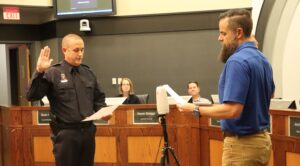 Above, Jessica Brandes pins the new Chief's badge on her husband Chris' uniform.
On Monday, July 10, Nevada Mayor Brett Barker swore in Chris Brandes as Nevada's new Chief of Police.
Brandes, who began his career with the Nevada Public Safety Department as an officer in April of 2013, is also a member of the Iowa National Guard. His career in the National Guard and the Nevada Public Safety Department is impressive.
Since September of 2003, the 2004 graduate of AHSTW Community School District in Avoca, Iowa, has served as a National Guard Health Care Specialist. He provided care for members of his battalion while deployed to Iraq during Operation Iraqi Freedom.
While deployed with Operation Iraqi Freedom, Brandes earned his combat medic badge. This badge recognizes that Brandes performed combat medic tasks while directly under enemy fire. He has continued to serve the National Guard as a Combat Medic Instructor.
As a member of the Nevada Public Safety Department, Brandes was on patrol for two years, and then was selected as a training officer in addition to working patrol. In January of 2016, Brandes served for two years as an investigator for the Department, and then in 2018, he was promoted to Patrol Sergeant with the Department.
As a Sergeant, Brandes was in charge of day-to-day functions and operations for the Department in the absence of the Public Safety Director. His certifications and credentials include being a graduate of the Leadership Nevada Class of 2022, receiving the Sullivan Brother's Award for an Act of Valor in 2015, being named a Sergeant First Class with the United States Army in 2013, and completing instruction with the Northwestern University Center for Public Safety Staff and Command. He also serves the Department as a defensive tactics instructor, an ASP baton instructor, a firearms instructor, a patrol rifle instructor, and a weapons armorer. Brandes also earned his bachelor's degree while working for the City's Public Safety Department.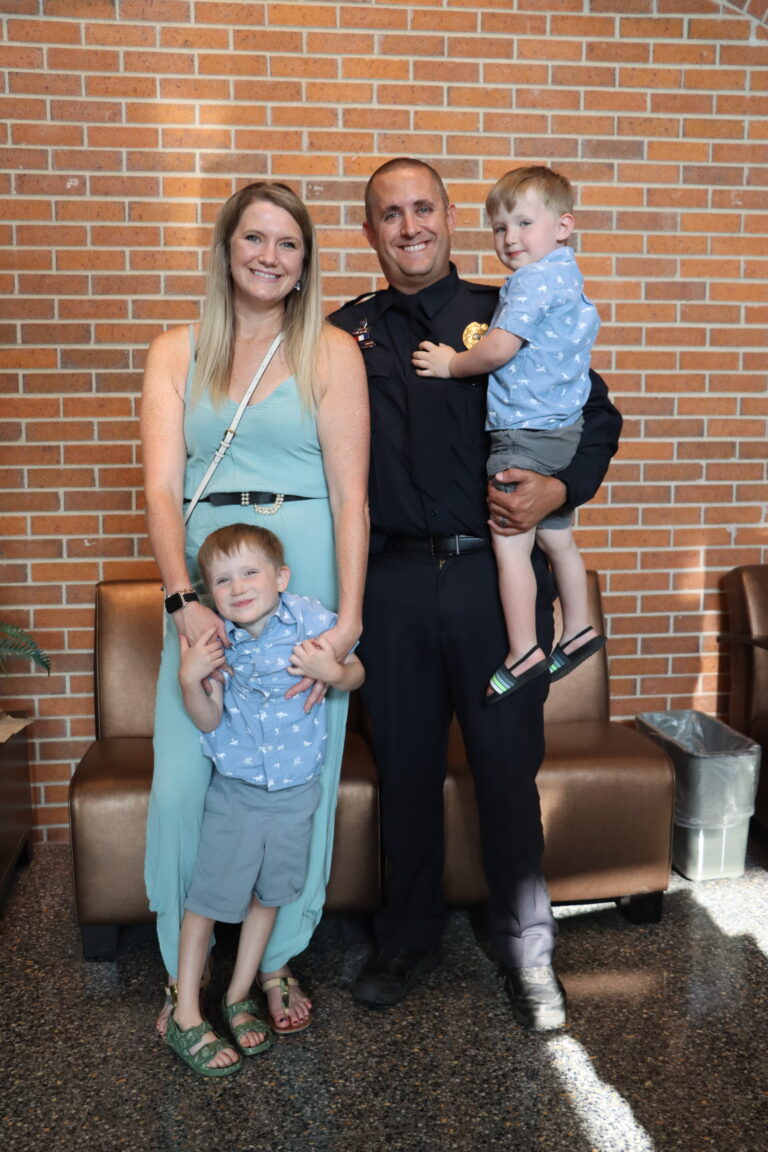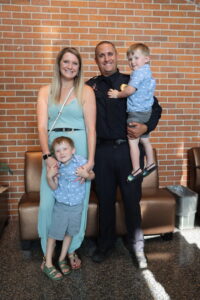 Brandes is a resident of Nevada along with his wife, Jessica, and their two young sons, Easton and Hunter. Jessica is a nurse/educator and a certified birth doula-hypnodoula.
The Brandeses have enjoyed being active in their community and attending community events. They have participated in the Runners United Nevada 5K races. Chris has also coached fastball, coached for the Nevada Soccer Club, coached little tykes' basketball, and been a member of the Nevada Fire Department, the Pizza Pie Looza committee, the Lincoln Highway Days Committee, and a Nevada coed slow-pitch softball team. He previously served on the Eastern Story County Youth and Shelter Services Board.
Mayor Barker is pleased about the City's newest leader. "I'm excited for the next chapter of our public safety department under the leadership of Chris Brandes," Barker said. "Having strong internal candidates is a testament to the leadership development of our department. Chris brings a depth of knowledge and community connections that will bring him success in his new role.
Brandes will succeed the current Director of Public Safety and Chief of Police Ricardo Martinez, who plans to step down later this year.
–-Written by Marlys Barker, City of Nevada