Back in November of 2019, Dee Monson asked Nevada Mayor Brett Barker to speak at a Seniors on Sixth monthly potluck about being elected to the Board of Trustees of the Hoover Presidential Foundation.
But before they could get it worked out, the pandemic took over.
Today, June 14, 2021, Barker finally came to the Nevada Seniors' monthly potluck. Barker spoke just briefly about serving on the Board of Trustees for the Hoover Presidential Foundation. He was more excited to introduce his guest, Jerry Fleagle, President and CEO of the Hoover Presidential Foundation.
Fleagle was born and raised in West Branch, Iowa, the home of the Herbert Hoover Presidential Library and Museum. He'd managed a grocery store in the community during the early part of his career. His career in the grocery industry took him away from West Branch for 28 years, and then he returned.
Fleagle gave an interesting PowerPoint presentation about Herbert Hoover and the Herbert Hoover Presidential Library and Museum to a full audience in the Nevada Senior Center.
"Herbert Hoover is Iowa's only president," Fleagle said. "All presidents come through Iowa, but he's the only one from Iowa."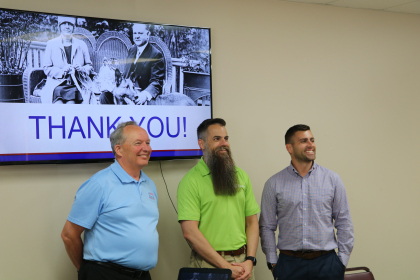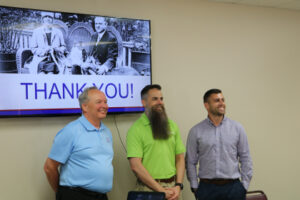 Many dwell on the fact that the Stock Market Crash of 1929 happened just months after Hoover took office, leading to the Great Depression. "A lot of people say, 'He's the president who caused the Depression … and that's not true," Fleagle said.
Fleagle's program focuses on the incredible achievements of the country's 31st President. He presents Hoover as one who overcame losing both parents before he was 10 years old to become a successful business person and perhaps the most successful organizer of post-war (both after WWI and WWII) relief efforts that this country would ever know. Hoover was a very wealthy man, but gave generously with a public servant's heart.
Fleagle commended the Iowa Legislature and Iowa Gov. Kim Reynolds for passing and signing HF 588 to ensure the Hoover Presidential Library will continue to educate and inform generations to come. He said an expansion and technological update to the library and museum are in the works with a strategic goal of "taking guests on a transformative journey."
Hoover, Fleagle said, "was always so optimistic on humans and what they could do…. He (Hoover) was big about challenging everybody to lead an 'uncommon life.'"
The improvement project for the library and museum is estimated at anywhere between $18 and $25 million, coming from private funds and the tax credit established in HF 588. Fleagle said it is hoped to hold a re-dedication of the newly updated and remodeled facility in August of 2024. He also noted he is hopeful the presidential libraries will all re-open (following a long COVID closure) this summer.
Mayor Barker, who attended college at the University of Iowa not far from West Branch, admitted he always drove by that exit as a student. In more recent years, Barker has become very interested in presidential history. He joined the Hoover Presidential Foundation because "there is such an incredible story to tell" about Iowa's only President.
All Nevada seniors are invited to attend the monthly potlucks at the Nevada Senior Center and other activities held in the Senior Center. Watch the CityofNevada, IA Facebook page for updates about Seniors on Sixth. The next Monday potluck will be held July 12, beginning at 11:30 a.m.
–Written by Marlys Barker, City of Nevada