Ryan Hutton receives the 2020 IPCA Community Policing Award for Communities under 10,000 from IPCA President Chief Rob Burdess of Newton.
Nevada Police Officer Ryan Hutton has been selected as the 2020 "Officer of the Year" by the Iowa Police Chief's Association. The award, presented during Monday's Nevada City Council meeting, honors Hutton for his efforts in "community policing" in a city of 10,000 or lower.
"I was super surprised. It's a huge honor," Hutton said after being told of the award, which in non-pandemic times would have been presented at the annual conference of the IPCA.
Hutton's nomination was written by his friend and fellow officer, Detective Sgt. Andrew Henderson. Henderson drew attention to Hutton's efforts to respond to the events of 2020 — COVID 19, an incident in Minneapolis, and riots that followed — by bringing the community together through things like a Bear Hunt and a Chalk the Walk challenge. Hutton also starred in the City's "COVID Mask" parody for Halloween and took a lead role in the department's Color or Draw a Snowman Contest in December.
"Officer Hutton has always been Nevada's unofficial community officer," Henderson said.
Hutton appreciates the nomination and Henderson's remarks. "We started (as officers) almost the same time (in 2015). We look similar, so a lot of people would call me Officer Henderson, so I started handing out his business card," Hutton joked.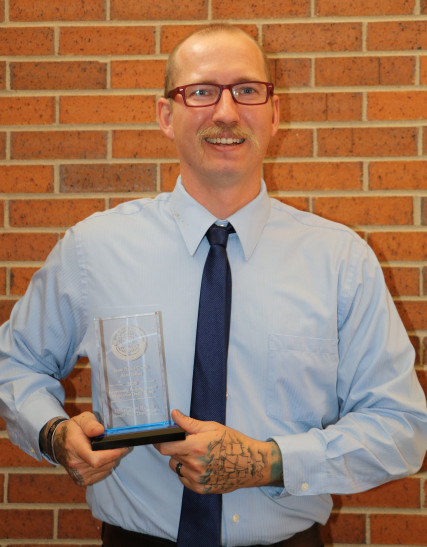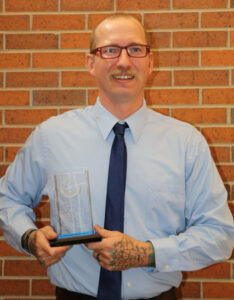 About the award, Hutton thanked the community of Nevada. "They've embraced my bold and personable personality," he said.
Hutton's personality stands out when it comes to community engagement projects. Hutton explained how social media, even with its flaws, has allowed officers to have a more significant presence in their community.
"Working with residents is one of the greatest rewards I have as an officer," he said.
Sometimes officers must work with residents in very serious ways. "I like to be there to help someone when they can't help themselves," Hutton said. "I said that in my interview when I came here, and I took it to heart. I want to help people get through their moment of crisis."
Delving deeper into the mission of helping people, Hutton is currently splitting his time between the Nevada Police Department and his hometown Indianola's fire department. He also plans to start paramedic school in August.
"I'm passionate about patient care," he said. "As an EMT (which Nevada's police officers are), I'm limited on my involvement on medical calls. But my passion is people and caring for them. I try to bring that aspect to my position in law enforcement when I'm with people. This (paramedic school) will be a good step to allow me to help people even more on a whole different level."
Hutton thanks the Nevada Police Department for "allowing me to be me with my personality." He thanks the Nevada community for showing up and taking part in events the police do.
To younger officers or those looking to get into law enforcement, Hutton offered these thoughts. "It's a fantastic job. It's still an extremely honorable job. I would tell any younger person, be confident in who you are and learn to be articulate. Communication is the most important part of this job, and when you have a breakdown in communication that is when calls don't go very well. Everybody on a call just wants to be heard. When you're not listening, it shows immediately."
Hutton said he has learned to quickly "read the room" when he arrives at any call. "Sometimes you need to show empathy, sometimes you need to be more sympathetic. And always listen to more than one story… Nothing is ever cut and dried or plain and simple."
Nevada's Director of Public Safety and Chief of Police Ricardo Martinez II offered his personal congratulations to Hutton. "He has been a great example of what community policing looks like. I think this is a fantastic award for Hutton, well deserved."
Want to know more about Officer Ryan Hutton? Read this Q & A:
Q: Who are the members of your family?
A: My wife, Ashley; and our four sons: William, 10; London, 8; Oliver, 4; Beckett, 1.
Q: Wow, all boys. Why do you think you have just boys?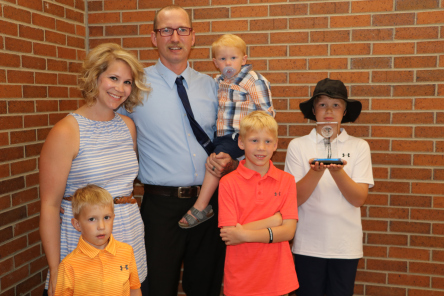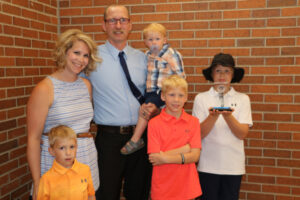 A: Apparently, there's been something in Nevada's water, and it only makes boys.
Q: What do you like to do on your days off?
A: I'm honestly a stay-home guy. I don't like going places. I've got a lot of truck projects to work on, so I'm often in my backyard welding.
Q: Is welding your main hobby?
A: Welding and being with my family. My favorite Ryan thing to do is building RAD stuff.
Q: Some cops make cool videos by dancing. When will we see your dancing video?
A: I don't dance, not even a little bit. It's in my soul, but my body doesn't cooperate. I have two left feet.
Q: What do you like most about Nevada?
A: Nevada is a fantastic place to be an officer. Our department works really well with surrounding agencies, and our department offers tons of training. I love this community. I've yet to be singled out or yelled at by anyone. The people in Nevada also treat our family very nicely, any time we are out and about together. And my neighbors are awesome!
Q: What is your favorite cop show?
A: Emergency. I still watch reruns.
Q: What is your favorite snack or treat during a long shift?
A: I don't snack a whole lot, but I drink a lot of Gatorade on patrol. The Blue Frost is my favorite.
Q: With all the stuff an officer wears, what would you love to get rid of?
A: The radio. It cuts in and out all the time, and it's usually loud when I'm trying to talk to people. It can feel like it's screaming in my face.
Q: What is your favorite thing you wear as an officer?
A: My bucket hat or boonie hat — I never go on patrol without it. I got started wearing it because I happened to bring one on patrol one time, and the Director of Public Safety said he didn't hate it, so now it's all I wear. I have all sorts of different colors of these hats, but on patrol I only wear black or blue ones. I think the hat is unique enough that it has made me instantly recognizable to people.
–Written by Marlys Barker, City of Nevada