Nevada Parks and Recreation and the Nevada community are once again the benefactors of local boys pursuing their Eagle Scout badge.
This summer, Ryan Wessels is adding to the amenities of Wilson Pond, one of Nevada's in-city fishing ponds located on the west side of town.
On Tuesday, despite a "feels like" temperature of 99 degrees, Ryan, and several others helping him, were busy getting helical piers screws transported and drilled into the pond.
They started on Cherokee near one of the trailheads getting everything ready for transport along the trail. Helping with the process were Matt Runge, owner of OnTrack Construction; Matt Frideres, a contractor; and Mark Frideres, a local Boy Scouts leader. Runge was supplying the mini excavator needed to drill the helical screws into the water.
"One thing Scouting has taught me is about leadership and being able to contact people like Matt Runge and Matt Frideres," Ryan said. "I had to talk to them about my ideas and then work with them to make the idea come to life. That's really kind of cool to think about."
Ryan, 15, and soon to be a sophomore at Nevada High School, is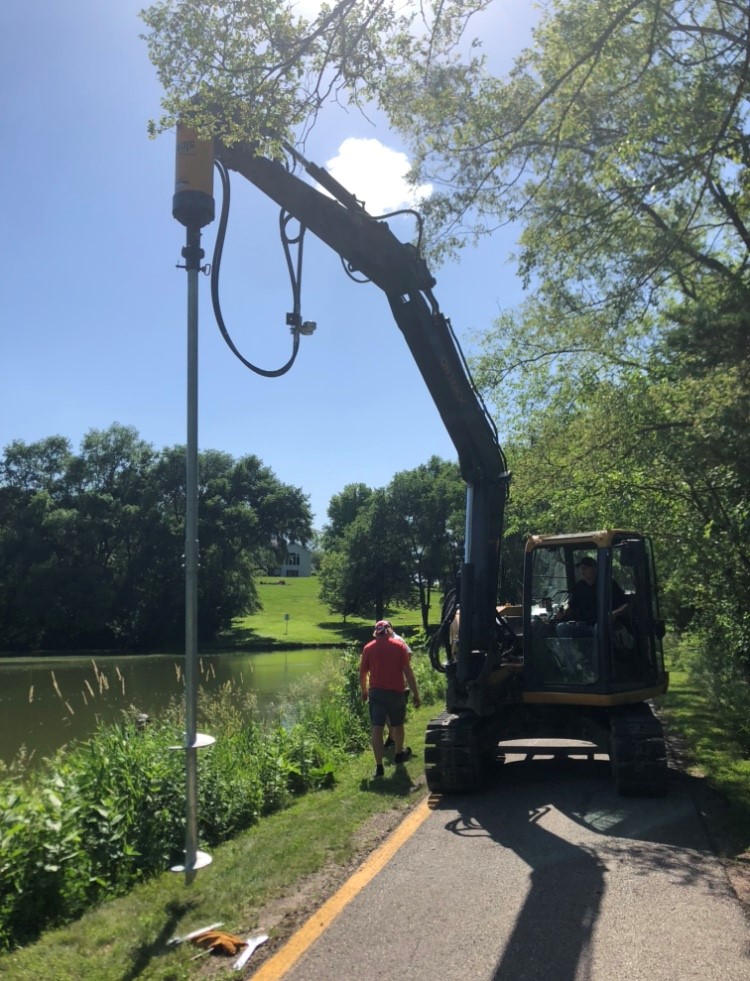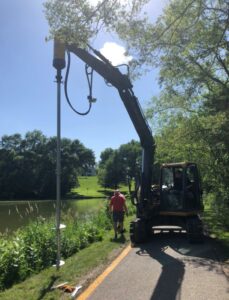 the son of Jennifer and Jason Wessels. He's been a member of Boy Scouts Troop 128.
Ryan said this project – adding a 10 x 12 ADA-accessible dock/deck fishing platform at Wilson Pond – was born out of his love of fishing.
In trying to determine what his Eagle Scout project would be, Ryan said he spent a lot of time talking to Mark Frideres at scout meetings. "We talked about the things I was passionate about and one of those things is fishing. So, we talked about the things I could do in the community to impact fishing."
Wilson Pond, located just off the trail loop in west Nevada became the focal point. Wilson Pond is where another Troop 128 member, Nick Frideres, completed his Eagle Scout project, building a new shelter house next to the pond last summer. (See link to that story: Eagle Scout Project gives Nevada a new shelter by Wilson Pond | City of Nevada, Iowa (cityofnevadaiowa.org) The original shelter had been damaged in the 2020 derecho.
Ryan said the fishing platform he's creating will sit fairly close to the shelter. "It's right off the trail," he said.
Completion of Ryan's project is expected to happen this coming Saturday, when they build the platform on top of the helical pier screws. "The deck will be made of composite decking material and mostly wood," he noted.
The fishing platform project is not the only time Ryan has put in work at Wilson Pond. He said one of his first endeavors there to improve fishing was working last winter with Story County DNR officials to make brush piles, which they sank to improve fish habitat.
Ryan hopes his Eagle Scout project will be a positive addition to the Nevada community. "Hopefully it will allow more people to fish, and it will be easier for people who need ADA accessibility and families."
Ryan is only entering his second year of high school, but we asked if this project has given him any ideas of what he wants to do in the future. "I predict I might want to do something in the engineering field," he said.
–Written by Marlys Barker, City of Nevada