The City of Nevada, IA is home to many wonderful businesses. This story is about a distinctive business we refer to as "a hidden gem."
Great Planes Millwork occupies 10,000 square feet in one of the community's longtime business buildings along the historic Lincoln Highway.
Owner Luke Ulrich said he has learned that the building in the 1940s was home to a Farmall tractor dealer. "I get a lot of folks stopping in and remembering being here with their grandpa. But, they never talk about looking at tractors. They talk about the Coke machine that was here! I'm pretty sure back in the day, there weren't many places to get a Coke," he said with a laugh.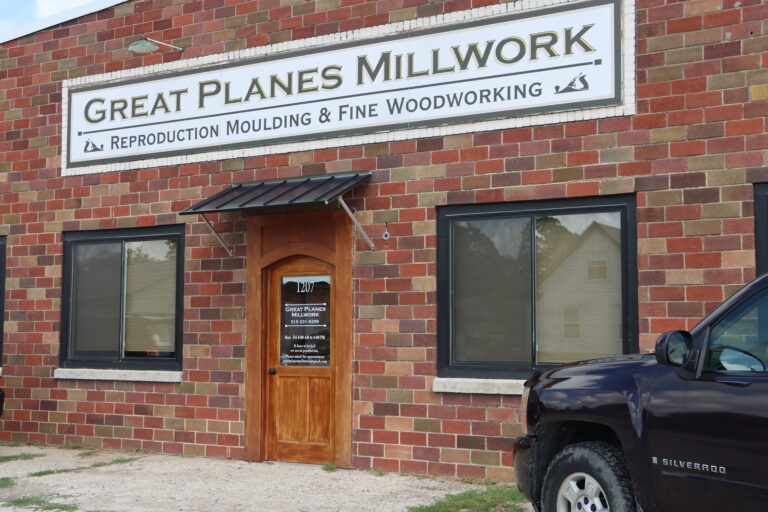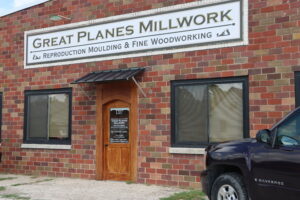 The building in more recent history was home to the General Telephone offices and was likely filled with all kinds of telephone repair pieces and telephone and electronics equipment. Before moving to his current location, Luke rented space from Don Williams, a WWII veteran who started Williams Cylinder Head, in the building that sits behind Luke's current location.
Today, as home to Great Planes Millwork, the building at 1207 Lincoln Highway is filled with machines and tools, many custom built by Luke to do reproduction millwork, custom design, furniture, built-in cabinetry, doors, bar tops and more. At the beginning of this year, he turned what had been a side business into his full-time occupation, and his wife, Barb, joined him in the adventure.
"We decided the time was right," Luke said. Oddly enough, the recent pandemic actually helped spur more business. "Nobody knew what to expect," Luke said of when COVID-19 shut so many things down. "I thought the phone was going to be silent, and then I started having people contact me. They wanted to work on projects."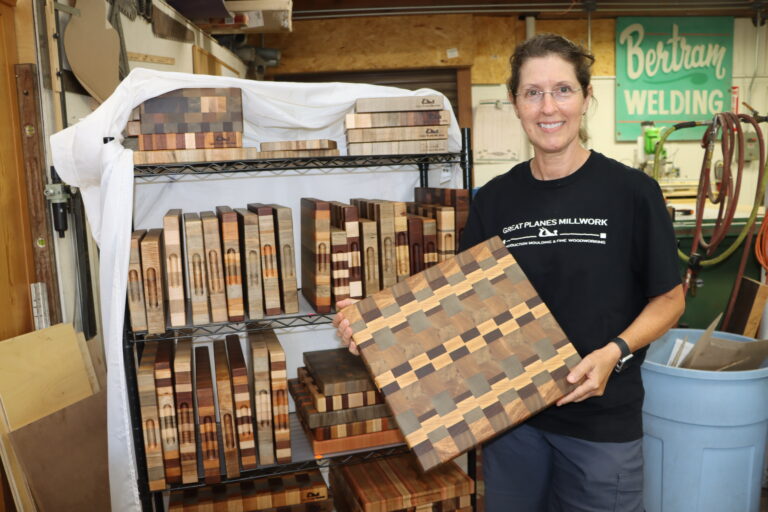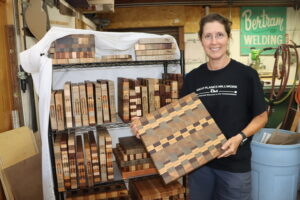 When he started talking about leaving his full-time work in industrial maintenance and going full-time with his own business, Barb asked why he was going to get to have all the fun. She wanted to join him, and Luke said her main job in the business is "to keep me in line." The two agreed that they work well together. Sometimes Barb is catching the boards coming off a machine; sometimes she is working on a smaller woodworking project, like making custom cutting boards. She has become comfortable working with smaller machines.
How it all started
Luke said woodworking started as a hobby, something he messed around with at home, doing projects for himself.
Then a good friend, who lived north of town in an Italianate-style home, needed to match the trim in the 1800s house. "He needed moldings," Luke said, "and obviously you can't go to [a big box store] and find them. So, he asked me to make them."
Those moldings not only turned out to be good, they became Luke's "first professional project." Custom moldings have since become one of the most popular things he does for customers.
He's had people from out of state who have called him when they're doing restoration projects, a lot of which resulted from people sitting around during the pandemic thinking it was time to fix up their homes, he noted. "We started getting a lot of phone calls and a lot from the Des Moines area, because I joined a Facebook page for Des Moines rehabbers and started posting there."
One historic home Luke has worked on is the August H Bergman House in Newton. "They're remodeling, and we've made moldings for them. We're also rebuilding the kitchen," Luke said.
The wall right inside the front door of Luke's business – a door he made, of course – holds all kinds of knives he grinds to make reproductions of wood and trim.
"One of the joys of woodworking is that nothing is ever the same. I enjoy the challenge and the creativity of it," Luke said.
"He amazes me," Barb said of the things her husband is able to reproduce. She's not only her husband's best helper, but she's also his greatest promoter. "One of the most exciting things we did was a built-in bookcase in a home. Luke went through the home and found different architectural styles and then incorporated those into that bookcase."
Luke said the home Barb is referring to was built in the 1980s, but the owner wanted to remodel it to look more like a 1920s home. It had a long narrow room they wanted to use as a library. After surveying the various architectural details of the home, Luke was able to build a bookcase that looked like it was always meant to be there.
Barb reminds him of another project where a home had slanted upstairs ceilings, and he made two pieces of furniture that were cut to match that slant. "Anything that has to do with wood," he agreed, "we can work with it."
It's no surprise that Great Planes Millwork has many repeat customers.
Working with people
Luke said what he enjoys the most about his work is the initial meeting with a customer and coming up with an idea. "I like to earn their trust to know that I can build something they will like. And then, when they come to see the progress or get pictures of the progress, it's a joy to see their excitement about it."
It sometimes takes a bit of time to figure out how to make a project work and work correctly. Barb said she admires Luke's "have no fear" attitude. "He has the mindset that he can accomplish anything, just give him some time."
Luke agreed. "I can't worry about failing on a project. There's always going to be something, a blemish or something I could have done differently, but if you look at the old craftsmen, those [small mishaps] are in their work. They just kept improving. That's what I try to do. There's always something to learn and always a way to improve."
One Nevada businessperson Luke works with quite often is Andrew Drake, who builds custom guitars, another very distinctive business. "He comes in about once a month, and I cut wood into thin strips for him to use in his projects."
Luke is all about finding ways that he can help others. In fact, that is part of the reason his business now includes a warehouse with a wide supply of woods available for sale.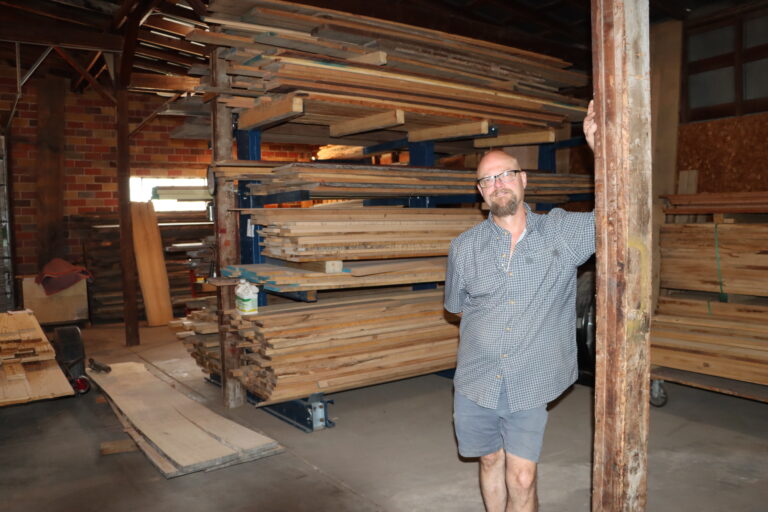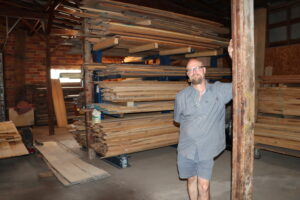 An interesting warehouse
The warehouse is a relatively new part of Great Planes Millwork and has been organized and available to those wanting to purchase wood for about a year.
As he walks through the warehouse area, Luke points to a stack of wood he's very proud to have available. "This is Peshtigo wood, and it's a favorite," he noted.
For those who are not familiar, Peshtigo is the northeast area of Wisconsin, where on the same day as the Great Chicago Fire on Oct. 8, 1871, there was also another major fire at Peshtigo, Wis. It was the largest forest fire in United States history. Over a million acres burned. "Your fire chief was very aware of the history," Luke said about Nevada Fire Chief Ray Reynolds.
Peshtigo wood was preserved by being in the river, under water, for over 150 years. The sawmill had burned down, and the wood (maple and birch) was left behind and not discovered until about 10 years ago, Luke said. "It can make some beautiful furniture. I've built a vanity for someone out of this… It's one of my favorite woods to work with because of the story behind it and the romance of that."
The Peshtigo wood isn't the only historic lumber in his warehouse. Luke and Barb walk over to another wall where some huge boards are resting. Writing on one of them shows that it came from the Puerto Rican Express, then went to Corning, Iowa.
"I'd love to find out how this wood went from Central America to southern Iowa," Luke said. "I bought it from a former co-worker who found it about 25 years ago in his barn."
Luke said the wood is Honduran mahogany, and the size of the boards is huge. "It's unheard of to have boards this big anymore."
In his warehouse, all the woods he has available are sorted by species.
"It would be really nice for the community to know that we have this warehouse available," Barb said.
"I'll always offer to plane the boards down and cut them up for people," Luke said. "This can be especially helpful for people who do woodworking as a hobby."
The Ulrichs love living and having a business in Nevada. "I like the small-town atmosphere," Luke said. "Here, people are friendly, and some people wander in to see what we do here." He loves being able to talk to others about the work he and his wife are doing.
Other points of interest about the Ulrichs and Great Planes Millwork
FIRST PUBLIC EVENT: On Friday, Sept. 9, the Ulrichs will take part in their first public event – the Harvest Market in Marshalltown. They'll be taking some of the smaller projects, like the beautiful cutting boards that Barb has been working on using smaller wood pieces and river wood.
LUKE'S FAVORITE WOODS TO WORK WITH: "Walnut is always beautiful and quarter-sawn white oak, because it has a figure to it."
MOST POPULAR OLDEN-DAY WOOD: Luke said he makes most of his custom historic moldings in red oak and pine.
WHAT LUKE EXPLAINS OVER AND OVER: "Wood is always moving. It's expanding or contracting. This is why you need wood that is kiln-dried. Wood has to dry properly."
BEST SOCIAL MEDIA FOR HIS BUSINESS: "I like posting on Instagram to talk to other craftsmen." He finds most new customers by posting on Facebook.
LUKE'S BACKGROUND: He is originally from Minnesota. He came to Nevada in the early 1990s for work. He has worked at ALMACO in Nevada, at several industries in Ames, and most recently at Technical Services in Ames. Luke has three children with his first wife, Julie, who died of cancer in 2010.
BARB'S BACKGROUND: She served in the United States Marine Corps and was living in Marshalltown before moving to Nevada. She has four daughters.
BEAUTIFUL DOGS: Now "empty nesters," Luke and Barb have two Rhodesian Ridgebacks, who accompany them to work most days. Barb said they get many comments on the stunning dogs.
UPDATES TO THEIR BUSINESS BUILDING: The front side of their building has new windows from Nevada Lumber and a new door, which Luke built himself. Inside, they called upon local electrician Jeremy Williams to rewire the building for industrial use. Along with the warehouse area, they have a shop area, which includes the delivery area for materials, and they have a "bench room" that is climate-controlled for more refined work.
TO LEARN MORE ABOUT GREAT PLANES MILLWORK: Follow Luke.woodworker on Facebook or go to www.greatplanesmillwork.com.
–Written by Marlys Barker, City of Nevada