The Public Safety Department receives calls frequently asking about open fires. Not every fire throughout the year is an illegal fire. In fact, recreational fires are permitted year-round. Who doesn't like having a few friends over to sit around the fire pit with a good natural fire? The first picture below is an example of a recreational fire. Open burning of yard waste — dry leaves, small branches — can only take place Oct. 1-Nov. 20 and April 1-May 15. Burning leaves in a fire pit does not constitute recreational burning. Only cut firewood can be used for recreational fires in a contained pit or device made for small fires. The second picture below is NOT a recreational fire. More burning information can be found in the City Code, available below.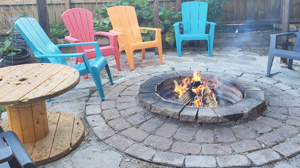 ORDINANCE NO. 844 (2002/2003)
AN ORDINANCE AMENDING, CHAPTER 105 (SOLID WASTE CONTROL), SECTION 5 (OPEN BURNING RESTRICTED) OF THE CODE OF ORDINANCES OF THE CITY OF NEVADA, IOWA, BY DELETING SECTION 5 (OPEN BURNING RESTRICTED) IN ITS ENTIRETY AND REPLACING WITH NEW SECTION 5 (OPEN BURNING RESTRICTED) TO RESTRICT OPEN BURNING PERIODS
BE IT ENACTED by the City Council of the City of Nevada, Iowa, as follows:
SECTION 1. Chapter 105 (Solid Waste Control), Section 5 (Open Burning Restricted) is deleted in its entirety and replaced by the following:
105.5 OPEN BURNING RESTRICTED. No person shall, without permission of the Fire Chief, cause or permit open burning of combustible materials, except for the following:
Disaster Rubbish. The open burning of disaster rubbish shall be limited to landscape waste for the duration of the community disaster period in cases where an officially declared emergency condition exists. The Fire Chief shall deem the community safe prior to burning materials from the disaster.
Open burning of diseased trees. However, when burning diseased trees causes a nuisance, appropriate action may be taken by the Fire Chief to require relocation of the burning operation.
Flare Stacks. The open burning or flaring of waste gases, provided such open burning or flaring is conducted in compliance with applicable rules of the Iowa Department of Natural Resources.
Landscape Waste. The disposal by open burning of landscape waste originating on the premises shall be subject to the following restrictions:

A. Location Restricted. No person shall burn landscape waste unless the location is at least forty (40) feet from any structure, including wooden fences and utility poles, or within a public utility easement. Burn barrels are prohibited.
B. Periods Set. Periods of open burning are restricted to April 1 through May 15 and October 1 through November 20. Open burning during the period of April 1 through May 15 shall not commence before 8:00 a.m. and the fire must be fully extinguished by 7:00 p.m. Open burning during the period of October 1 through November 20 shall not commence before 8:00 a.m. and the fire must be fully extinguished by 5:00 p.m. The dates may be amended by the Fire Chief.
C. Attendance Required at Open Fires. A competent adult shall constantly attend all open fires of landscape waste until such fire is fully extinguished. This person shall have a garden hose connected to the water supply, or other fire extinguishing equipment readily available for use.
D. Fire Chief Authority. The Fire Chief may prohibit all burning under this subsection when atmospheric conditions or local circumstances make such fires hazardous.
E. Igniting Materials. Flammable or combustible liquids, accelerants, or tires shall not be used to ignite any fire.

Recreational Fires. Open fires for cooking, heating, recreation and ceremonies, provided they comply with the limits for emission of visible air contaminants established by the Iowa Department of Natural Resources rules.
Training Fires. Fires set for the purpose of bona fide firefighter training provided the Iowa Department of Natural Resources Air Quality Bureau has been notified and proper documentation has been filed and forwarded to the Nevada City Administrator.

SECTION 2. REPEALER. All ordinances or parts of ordinances in conflict with the provisions of this ordinance are hereby repealed.
SECTION 3. SEVERABILITY CLAUSE. If any section, provision of this ordinance shall be adjudged invalid or unconstitutional, such adjudication shall not affect the validity of the ordinance as a whole or any section, provision or part thereof not adjudged invalid or unconstitutional.
SECTION 4. WHEN EFFECTIVE. This ordinance shall be in effect from and after its final passage, approval and publication as provided by law.